Reading Time:
2
minutes
Have you ever had one of those months?
The ones when everything seems to go tits up pear-shaped and even though you say "well things cannot get any worse", they somehow do? The type of month when your good intentions of getting organized, writing more blog posts and getting ahead of the game just don't come to fruition because finding the energy to just get through each day is all you can manage?
Well, that has been my January 2017. The only way I can make February a better month is to draw a line under January and accept that it happened and that I cannot change it.
January was a disaster.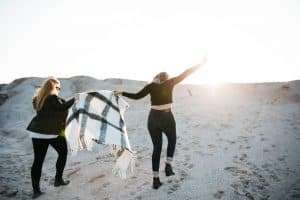 When the first week involved replacing a TV, washing machine and freezer, I thought this is our three. Bad things come in threes, don't they?
However, the rest of the month continued in the same way, lots of sets of three, each progressively getting worse.
Between my own health, a jobsworth plumber, my son's home to school transport, two visits to A&E, a visit from my friend, Vertigo and a tax return which showed that technology is not my friend, along with the general news from around the world – well January has been one of those months I will happily say goodbye to.
Last January, I made a tonne of goals, I made plans and I hit the ground running. This January, the goals, plans and any running took a back seat and food became a big friend. This, of course, adds to the issues.
February is the new January
However, I am now sat here and have decided February will be my January.
The Bullet Journal is out, goals are being set, plans are being made. I am working my way through the lovely Lisa Jacob's Your Best Year 2017 – if you don't have this already and want to plan a great year, then go get it now.
I did manage one big goal I had set before January – to create a whole new site for parents to help them get organized. Not only did I launch the site, I also managed to write one post a week with a helpful download.
I managed to clothe and feed my family, no one went hungry.
I managed to get my children up and out to school each morning.
I did it all with only a few close friends even realizing I was in total chaos.
So February, here I come. I won't be saying "things cannot get any worse" but I will be aiming high, sharing what I learn and talking frankly about the chaos.