Reading Time:
5
minutes
So today's #Blogtober17 prompt is Car.  Thankfully I am sure this one won't take me on the same emotional journey I took yesterday.  If you missed that, pop over and read about my Babies.
I thought today I would share you with a car journey I once took.
A very long car journey. 

A journey before the days of sat navs and mobile phones.

A journey that should have taken 2.5 hours; but took 11!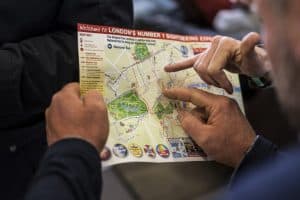 As I mentioned yesterday, I used to work in the travel industry and travelled quite frequently.  On one occasion, I was asked to accompany a lady who was going to write some copy for the brochure.  We were to visit properties in Sardinia and Corsica.
So off we went.  Thankfully we hit it off straight away on the flight out, little did we know how much this would help us a few days later.
We had a great visit to our Sardinia property and then jumped the ferry over to Corsica.  On arrival, the local Manager met us and on our way to property number one was explaining that the holes in the road signs were actually gun shot holes and some other issues they had been having with some local people who were not too happy about English holidaymakers.
As I am sure you have guessed, these little titbits never made it into the brochure.
The next morning we headed off in a new hire car to travel from the South of the Island to the North where our next property was located.
This is pretty much a straight road along the coast.  I had driven it quite a few times before.
We left at 10am and were expected at the next resort in time for lunch.
About ten minutes into our journey, we were stopped by a diversion.  A local police officer came over and we spent about five minutes trying to wind the window down in the hire car.  Aerials were raised and lowered, water was sprayed, radio channels were changed and every window, but the one we wanted, shot up or down.
After much laughter, it was obvious to the police office that a) we were in a car we were not familiar with, b) we were tourists and c) we thought he was very cute.  He asked where we were heading and explained that a forest fire was causing some problems and we would have to divert.  This was all in his language because he asked if we spoke it and of course we said yes.  Well we did but a) it was rusty and b) we needed him to speak very slowly, very clearly and without any local variations like they do on the Rosetta Stone tapes!
We nodded throughout the exchange, trying to save face.  We thought it'd be fine.  There would be signposts, wouldn't there?  We would just follow everyone else.
We pulled over to a local supermarket to get some drinks and crisps and we were handed a flyer showing the location of their other supermarkets on the Island.  Little did we know how grateful we would be for this map later in the day.
We left the supermarket and followed what we thought was the diverted traffic.
It wasn't.
We took a few wrong turns  – to say the least – and ended up so very very lost.
We were driving through forests; forests still smouldering from the fire.  There were wild small pigs running around and burnt out shells of cars scattered along the side of the road. 
It was now 3pm.  We had been driving for five hours and we had no idea where we were; there were no road signs at all, and we had no idea what to do.  We had no phone and sat nav was something we didn't know existed.  We were both girls from London who were used to an A to Z.
As we were about to give up hope, we saw a bus and thought "that must go to one of the bigger towns" so we followed it.  It didn't.  It was a bus for some village school children to get home.  The bus stopped there.  When I say village, I think I mean hamlet.  There were about 10 houses but it seemed a very sociable village with people sat outside their doors, chatting amongst themselves.  As we drove up behind the bus, every person stopped to watch.  Conversation stopped.
We waited for the tumbleweed to appear in the road.  
It was one of those moments where you wonder whether to stop and hope people will help, but you are also aware that no one knows where you are.  Having seen several burnt out cars on the way up to the village, we had already wondered what had happened to the people from those cars.  We were also aware of the manager's comments from the day before about not all locals like English holidaymakers.
We were also both very typical London inhabitants.  Never make eye contact and never ever ask for directions in case someone mistakes you for a tourist.
We decided we had no choice.  We stopped.  As we got out of the car, every single person walked over to us.  Using my rusty, school-girl knowledge of the language.  I said "We're lost" and this little man walked forward and in a very English accent said "no shit Sherlock"
I think at that point if he had proposed, I would have said yes.  I was so happy.  He explained he was an artist who had lived out there for years.
When we explained where we had come from and where we were going, we had to do that shameful experience of waiting while he translated what we had said for the locals.  Then waiting for them to stop laughing.
There was lots of shaking of heads and looks of confusion, and lots of laughter.  Lots and lots of laughter.
We got our little supermarket map out – waited again for the laughter to stop.
We were shown how we were, by now, almost on the other side of the island, and no one could understand how we had managed to get there.  We were so far off the track, it was beyond all reason.
He kindly explained where we had to go, using road names and numbers. Thankfully, his wife arrived and gave us instructions based on landmarks.  So much better.
Give me a "turn right when you get to McDonalds" over a "take the A249" anytime.
They filled up our water bottles, gave us some lovely nibbles to take and waved us off.  I remember looking in the rear view mirror and seeing them all standing there waving.   We knew we would be the topic at every dinner table in the village that evening.
An hour or so later, we saw a petrol station and we were by now desperate for the loo.  The poor owner was obviously not used to women asking to use his mechanics' loo, I can assure they were definitely not prepared for women in there but by this point, I would have used a hole in the forecourt!
We checked with the mechanics that we were still heading in the right direction, using our beloved supermarket map.  They sent us off with a smile – the type that says "there's nowt as strange as folk"!
We eventually arrived at the resort at 9pm.  The manager was beside themselves.  Head office had been notified, the local police had been called to see if any accidents had been reported.  I don't know which one of us was the most grateful to see the other.
For years, if anyone in the company asked how long it would take to drive between resorts, there was a pause.  Followed by "well, the way we go it would take x hours, but if you follow Debs, take refreshments and a change of clothes – and a map, definitely a map"
On the more positive side, we had the most descriptive copy ever for the brochure.   It was as if the writer had somehow really experienced all of Corsica.
SaveSave